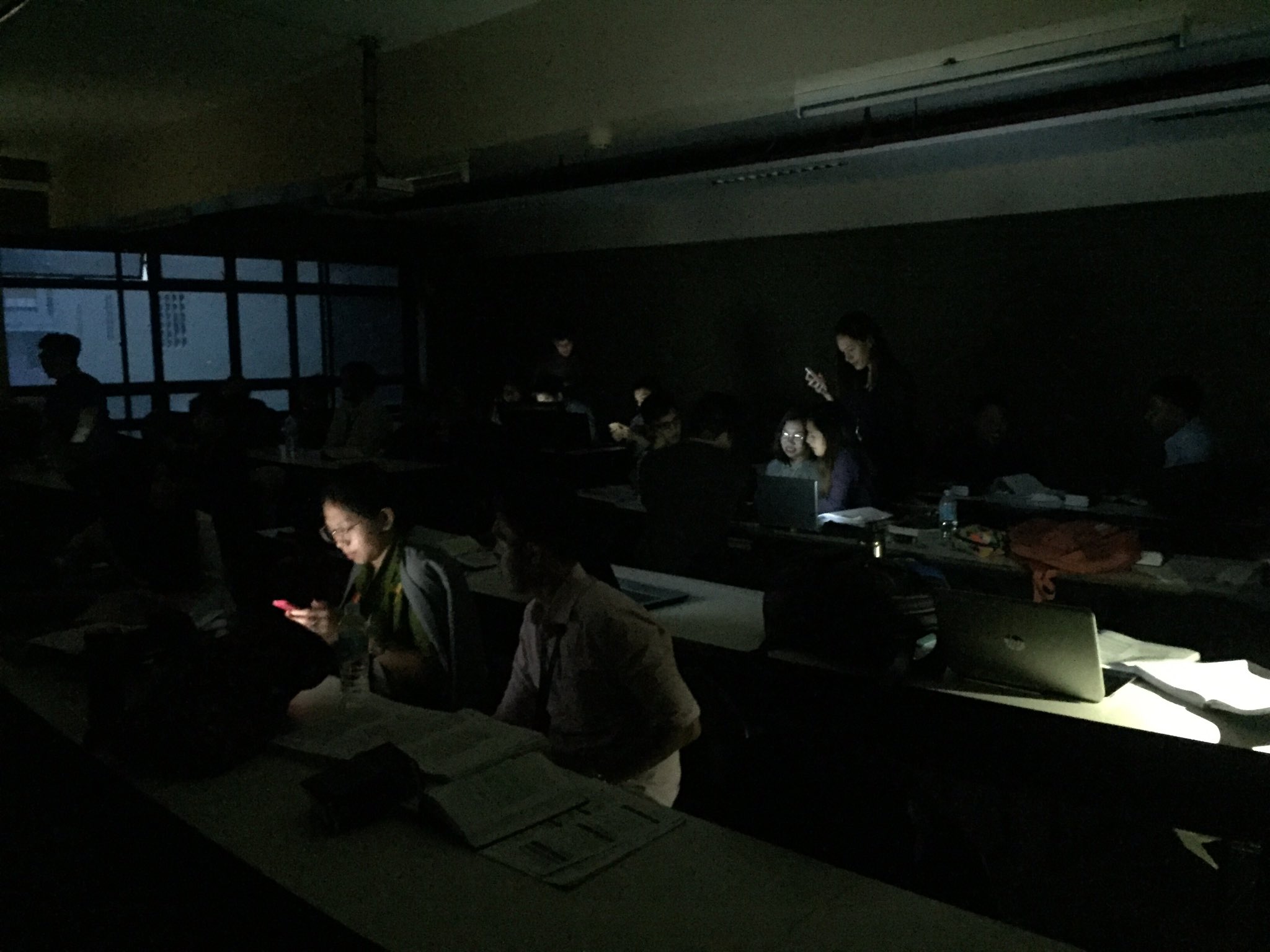 The University of San Carlos College of Law, after dominating the 2016 Bar Exams, was, unfortunately, afflicted with a power outage. However, in their culture of excellence, learning never stops even when the bulbs stop to give their light. Recitations and discussions continue as if the room is well lit. Below are tweets from the brave students of USC Law, armed with their codals and some improvised lighting from their devices. Perhaps a future topnotcher recited one of the topics today that will appear at the Bar Exams when he or she will take it.
continuous discussion despite black out🙌🏻 All hail, Atty T❤️#OnlyinUSC🔰@YourLawyerSays @thecorpusjuris pic.twitter.com/CDbWGSRHp1

— Khamiya Sison (@seasawn) July 10, 2017
Brownout won't stop Labor Online Recits #USCLaw pic.twitter.com/3yiKsRcPEz

— Ela (@VanillaEla) July 10, 2017
Earthquake yesterday, blackout today…but it still wont constitute as prima facie evidence for the presumption of no class 😂#LawIsLife🤘🏼 pic.twitter.com/AljEhhOFtt

— Minette Aureo (@waitaMinette) July 7, 2017
USC Law: Brownout? No problem! Magclass padin tayo pic.twitter.com/RHewrxokJP

— Tin (@Vanneeegirl) July 10, 2017
No blackout can stop recitations in USC law. pic.twitter.com/R5lHjYMo2f

— Dessa (@DessaElesterio) July 7, 2017
Law school is life pic.twitter.com/xJpUFb9oFd

— CD-R King 👑 (@ceedeeragay) July 10, 2017
Living up to it's mission statement "the darkness vanishes— before the light of the word."

ONLY IN USC LAW@thecorpusjuris @YourLawyerSays pic.twitter.com/9TnwbowTNW

— Janet Dawn Abines (@jadieey) July 10, 2017
Twitter user @seasawn said that the brownouts occurred past 7:00pm. Twitter user @ceedeeragay told YLS that they really held classes in the dark, complete with the usual recitation. Indeed, no amount of darkness can stop enthusiastic law students from learning (or more enthusiastic law professors from teaching)!