The Bar Exam season is coming, and once again, people will flock the streets of Sampaloc as University of Santo Tomas, once again, houses the much-hyped Bar Examinations.
The Bar Exam is a particularly unique licensure exam for being hosted only in one venue nationwide. Examinees, together with their supporters from different regions, may have to fly to Manila just to take the examinations. There have been earnest campaigns to regionalize the Bar, but so far, it is still Manila, particularly UST, that solely hosts the Bar Exams.
As a result, a lot of people may be unfamiliar with the places inside and outside of UST. Here is our handy guide.
Buildings inside UST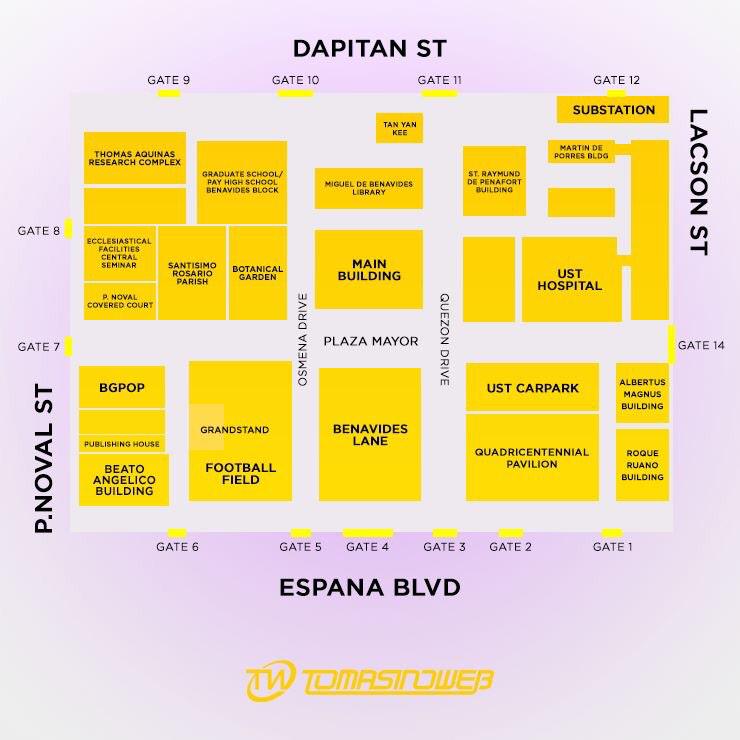 Here is the map of University of Santo Tomas (Layout by TomasinoWeb).
Gate 4 will be open for the Bar examinees where they walk through the greens of Benavides Lane (colloquially called as the "Lovers' Lane") to Plaza Mayor. The gates, according to the Supreme Court, will open at 5:00am and 12:00nn, and will close 30 minutes before the scheduled examination.
Those who will be taking their examination at St. Martin de Porres Building and St. Raymond's Building are only allowed to use Gates 2 and 3.
In case people would want to say a little prayer before and after the exams, the Santisimo Rosario Parish is beside the Botanical Garden, to the left of the Main Building.
In case the examinees would want to take a quick bite, the UST Carpark, just to the right of the Main Building, in front of the Health Services, hosts numerous fastfood stalls, a few of which are open on Sundays for the patrons of UST Hospital.
The comfort rooms in the Main Building are in the corners of the corridors. Some may have male and female comfort rooms side-by-side each other, while some may have female comfort rooms really situated far away from male comfort rooms. The comfort rooms on the Benavides Building are in the middle, normally near the elevators. For the examinees, you may want to check where the comfort rooms are ahead of your examination schedule.
Transportation
Transportation may be a little hellish due to the traffic on Espana Blvd. Aside from the customary Grab, Uber, or taxi, how do we get from UST to anywhere and vice versa?
The quickest way to go to LRT Line 1 (EDSA-Taft-Rizal Ave-Monumento) is thru riding a jeep in Lacson Avenue to Tayuman Station. It is a fairly short ride. Another way would be to ride a jeep or UV Express bound for Taft Ave.
MRT, on the other hand, is quite far. One can ride a UV or jeepney to Cubao, but UVs are relatively rare. There are also UVs and jeepneys that pass by Welcome Rotonda, SM North Edsa, SM Fa(i)rview, and Quezon Memorial Circle.
Line 2 (Recto-Santolan) of the LRT is just a tricycle ride away from Espana. The nearest station is the Legarda Station.
Nearest major mall is SM City San Lazaro, which can be reached by riding a jeepney bound to Tayuman along Lacson. SM Manila is also near, which can be accessed by riding a UV or jeepney bound to Taft/City Hall. Fisher Mall and SM North Edsa are relatively distant, but these can likewise be accessed by a jeepney or UV ride.
Going to UST is relatively easy on a Sunday. If you'll be coming from Quezon City (SM North EDSA, Cubao, or even Fairview), normally, any route that says Kalaw, Taft, or Buendia will normally pass through Espana and yes, UST. If you'll be coming from Makati or BGC, the commute will be a little tougher. Buses that plow Ayala-SM San Lazaro route are really rare and the Ayala-G Tuazon UV are likewise scarce gems. One way is to go to Gateway-Cubao thru EDSA and get a ride to Espana from there. Another way is to get to Buendia (Gil Puyat cor Taft) and ride to Espana from there. Routes going to Quezon City (SM North EDSA, Philcoa, Fairview) from Buendia will pass by Espana.
Provincial buses are plenty around Sampaloc. Victory Liner, Florida Bus Lines, and Maria de Leon are few of the bus lines that are within a walking distance from UST. You might consider taking the tricycle to Victory Liner or Florida Bus Lines if you are carrying heavy books.
Food
Food will not be a problem. Food is available everywhere. You have the carpark inside the campus, you have the nearby malls, and the four roads on the perimeter of the campus are lined up with eats that will surely fit anyone's budget, ranging from the tipid carinderias to the premium burgers and unli-samgyupsal meals.
Notable fastfood along Espana include Jollibee, BonChon, Shakey's, Goldilocks, Domino's Pizza, and Pancake House. Yellow Cab and Jollibee are along Lacson Ave., while Army Navy, (another) Jollibee, Wendy's, KFC, Mang Inasal are along Dapitan. McDonalds is along P. Noval. There are lots of other eats along these roads. For the Bar Ops people, while waiting for the exam to be finished, you may want to explore the lesser known but Thomasian-loved Mang Tootz, Chiquito's, Samgyupsalamat, Cow-wow, Happy Marianna, Amo Yamie, Chew York, Wingvibe, Lovelite, Dimsum Treats, Amor Bakery, D Cream and the other classic staples of Potato Corner, Turk's, and lots of other eats around.
Coffee shops such as Kivhan, Cafe UK, and Starbucks are also around. Note that there are Starbucks and Seattle's Best inside the campus.
There are multiple convenience stores around, there are 5+ 7-11s around UST, around 3 Ministops, and 1 Lawson. A 7-11 and a Family Mart are inside the campus.
For the BarOps people, I advise you to stay hydrated because the afternoon Manila heat is punishing unless it is cloudy. Bring an umbrella because the weather is unpredictable.
Medicine
Mercury Drug is the nearest major drugstore near UST. Two branches are located near the corners of Espana and P. Noval and the other is along Lacson Ave. going to SM San Lazaro. This information may come in handy when your bar examinees are in need of medicine.
Parking Spaces
WALA. Parking is almost impossible inside and outside UST during the bar exam season. With heightened security, based on last year's experience, the police has prohibited people from parking within and around UST. It is best to not bring vehicles to and from UST. I have heard of a few people being able to park in the nearby streets of Jhocson, Galicia, Asturias, and Tolentino after some negotiations with the residents. However, I suggest you do not risk it.
***
I will update this post as soon as authorities release guidelines as to the traffic scheme to be followed during the Bar Exam Sundays. Usually, they close a few lanes of Espana, Noval and Dapitan to accommodate the Bar examinees and the supporting BarOps.
Hope this helps.
If you'd like to add more and contribute to this article, drop a comment or send us an email at yourlawyersays@gmail.com. Thanks!